"To me a lush carpet of pine needles or spongy grass is more welcome than the most luxurious Persian rug.

"
Helen Keller
Flor's Garden amenities guarantee you comfort, relaxation and more. If you just plan to unwind and commune with God and nature, this is that quiet place you seek. If you wish for that picture perfect memory for a milestone in your life, Flor's Garden is that idyllic setting. If you want to incorporate fun and adventure in your stay, this is your playground. If you are seeking to learn and understand nature's secrets, then this is your classroom. All that experience awaits you here at Flor's Garden.
Flor's Garden is available to host your seminars, retreats, camping activities, pictorials, corporate events and personal milestones like weddings, among others.
The following amenities and area highlights are available.
One big rest house with:
– huge sofa upstairs and lanai downstairs
– one master's bedroom with aircon
– one living room
Infinity swimming pool
Gazebo
Cabana
Papag(s) in garden
Tent (2) in garden
Wide camping grounds
Playground / Team Building Area
Fish pond(s)
Bamboo Tree House
Hanging Bridge
Grille Area
Holding Area
Reception Area
Room and dorm-like accommodations are available
Earth School Areas
Our Earth School areas available for exploration with a tour guide include:
Jardin ng Buhay
No Filipino Should Be Hungry!
God's Pharmacy
Kiddie Garden (Pizza Garden)
Bamboo Tree House
Kiddie Animal Farm
Butterfly Sanctuary
Tea Garden
Grow Fresh Air!
Double Dig
Square Foot Gardening
Free Range Chickens
No Smell Pigs!
Vermiculture
Coffee Nursery
Pomelo & Carissa Area
Mango & Calamansi Orchard
Palmetum
Hiking in Bamboo Area
Bahay Kubo Vegetables Area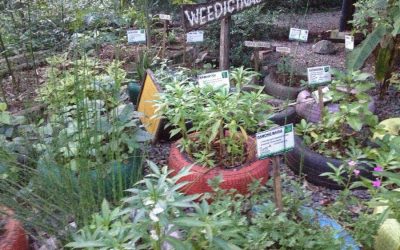 …back to basic with using medicinal herbs as an option for medicine. The garden has many kinds of medicinal plants and most of them are weeds.
read more